Posted on
By Louis Dzierzak
Whether you're setting out in hopes of an impressive climb, looking to spend time hiking with the kids, or just wanting to get some solid trail miles in during a long weekend, we have a few favorite spots in the Red River Gorge with spectacular views.
Sheltowee Trace
Camping
Difficulty: Rugged
Time to Complete: Three-day weekend
Distance: Unlimited
Time of Year: Spring or Fall (Open all year)
Fees: Permits and overnight camping fees are required in Red River Gorge
Located in the Daniel Boone National Forest, the Sheltowee Trace serves as the central core for an extensive system of interconnected trails. Almost 300 miles long, many sections of the Sheltowee Trace are lightly used. That's an attractive description for campers looking to get away from hectic work life. With extensive map resources at any Daniel Boone National Forest visitor center, you can plan a three-day weekend or a longer more remote adventure. Parking lots at numerous trailheads serve as convenient starting points and spots to park a shuttle vehicle. Plan your route to spend the night at one of five campgrounds: Turkey Foot, S-Tree, Clear Creek, Barren Fork, and Great Meadows.
Backpackers exploring the Trace will encounter an incredible variety of terrain. The trail descends into deep ravines and steep cliff-sided gorges before climbing back up to high ridges that reward leg-burning ascents with breathtaking vistas.
Take a moment to reflect on the trail's name. Chief Blackfish of the Shawnee tribe, named the Sheltowee Trail in honor of Daniel Boone. The name translates to "Big Turtle." Imagine exploring the same wild places Daniel Boone traveled on more than 200 years ago. Trail markers feature white diamonds and the image of a turtle to keep you assured you are on track.
Directions
Check the Daniel Boone National Forest website for multiple trailhead locations
Swift Camp Creek Trail #219
Hiking
Difficulty: Rugged
Time to Complete: 3-4 hours
Distance: 7 miles
Time of Year: Open all year
Fees: Free
Located in the Cumberland District's Clifty Wilderness, the 7-mile Swift Camp Creek Trail #219 meanders along the creek, weaving around boulder fields, stream crossings and steep cliffs that offer wonderful views of ribbons of water far below.
Starting at the Rock Bridge Trailhead, the trail takes you under tall hemlock trees that shade you from a hot afternoon sun. If you start hiking early, you might get wet from morning dew on rhododendron thickets. Formed by ancient glaciers, the area is home to almost two hundred species of moss.
Following the trail map, names of the scenic landmarks like Pooch's Turtle Falls, Steamboat Rock and Don Juan's Garden will bring a smile.
The remote trail challenges you with rolling descents and climbs and rewards you with waterfalls, and wonderful overlooks. Pay attention in areas where narrow paths parallel steep cliffs. Majestic vistas offer convenient spots to stop, drink some water and take in the beauty of the Red River Gorge landscape.
If you want to extend your day in the woods, add the 1.75 Wildcat Trail #228 or the 1.5 Rock Bridge loop to your route.
Directions
Head east on Mountain Parkway and take exit 33 near Slade. Turn left, then right on KY Highway 15. After 7 miles turn left on KY 715. Watch for Rock Bridge Road 0.3 miles ahead on the right. Follow Rock Bridge Road to the parking lot at the Rock Bridge Picnic Area. The 1.5 mile Rock Bridge Trail will connect you with the Swift Camp Creek Trail.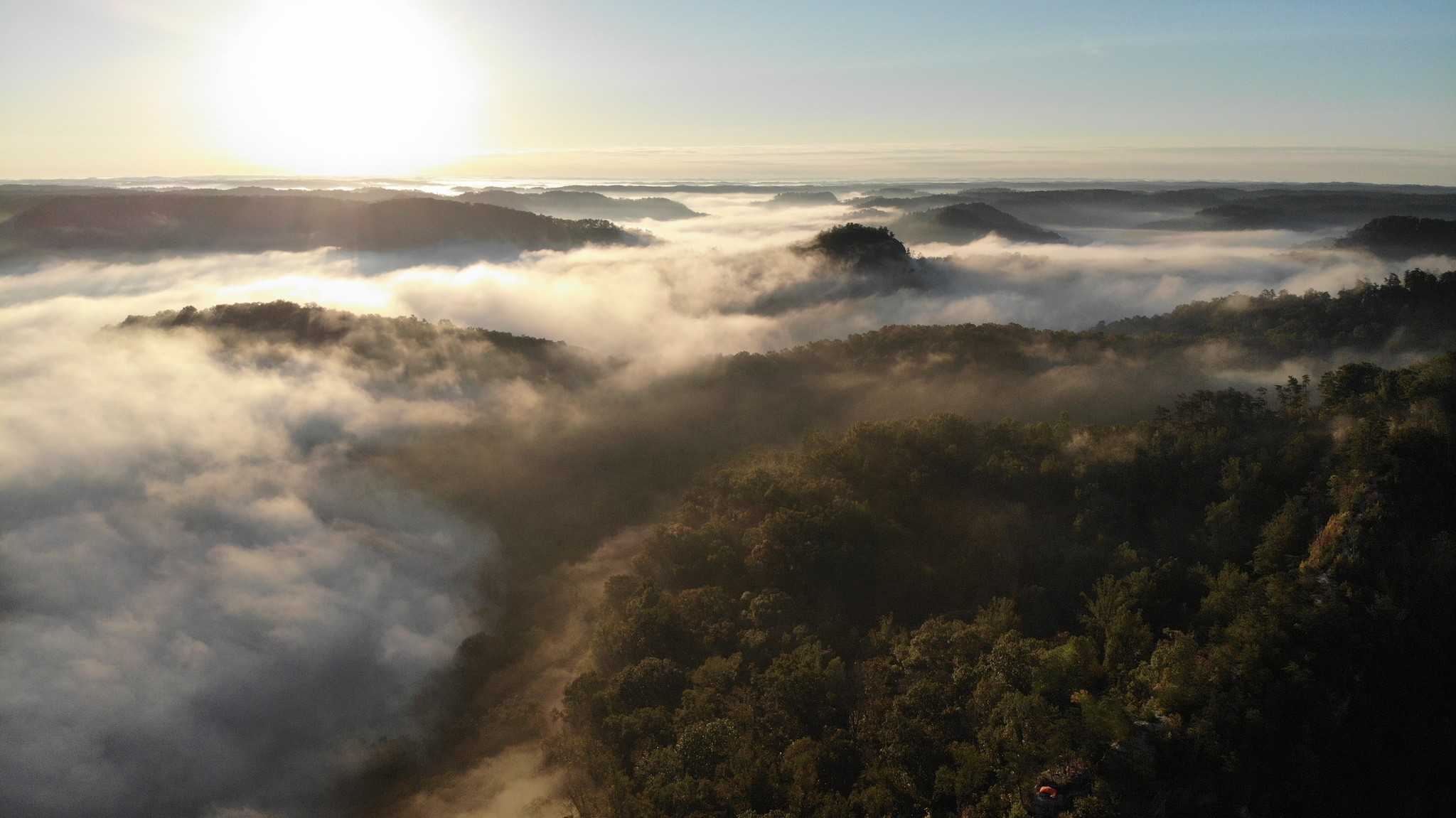 Auxier Ridge to Courthouse Rock
Hiking
Difficulty: Moderate
Time to Complete: w hours
Distance: 7.2 miles
Time of Year: Open all year
Fees: Free
Rising above the landscape at the end of the Auxier Ridge, Courthouse Rock is one of the iconic landmarks in the Red River Gorge. Standing at the base of Courthouse Rock, tilt your head back and take in the steep cliff wall and a large prominent crack near the summit. The huge monolith offers mixed and traditional climbing opportunities. Local climbing guides describe at least 4 routes ranging from 5.5 to 5.9 in difficulty.
Climbers reach Courthouse Rock and the Double Arch by hiking the 7.2 mile Auxier Ridge Trail.
It's a popular area and the out and back trail is often busy with other hikers and climbers on the way to Courthouse Rock. A portion of the trail shifts from dirt to bare sandstone and sheer cliffs frequently fall away from the trail. Don't worry about hiking too fast. Spectacular vistas will stop you in your tracks. Scramble up the last stretch and take a few minutes to appreciate the natural environment below you in every direction.
Located in the Cumberland Park District, the Auxier Ridge Trail passes popular landmarks like Haystack Rock, Raven Rock and Courthouse Rock. If you want to experience more incredible vistas and unique rock formations extend your route by adding the 2.25-mile Double Arch Trail.
Directions
Head east on Mountain Parkway and take exit 33 near Slade. Turn left, then right on KY Highway 15. Drive east 3.2 miles to Tunnel Ridge Road. Turn left and continue on Tunnel Ridge Road. The road ends at the Auxier Ridge Parking area.
Excited yet? The only thing easier than accessing these utopias is getting outfitted for them. Stop by Quest Outdoors to check out the latest camping gear from NEMO, and to get advice on the best campsites, trails, and supplies to bring along.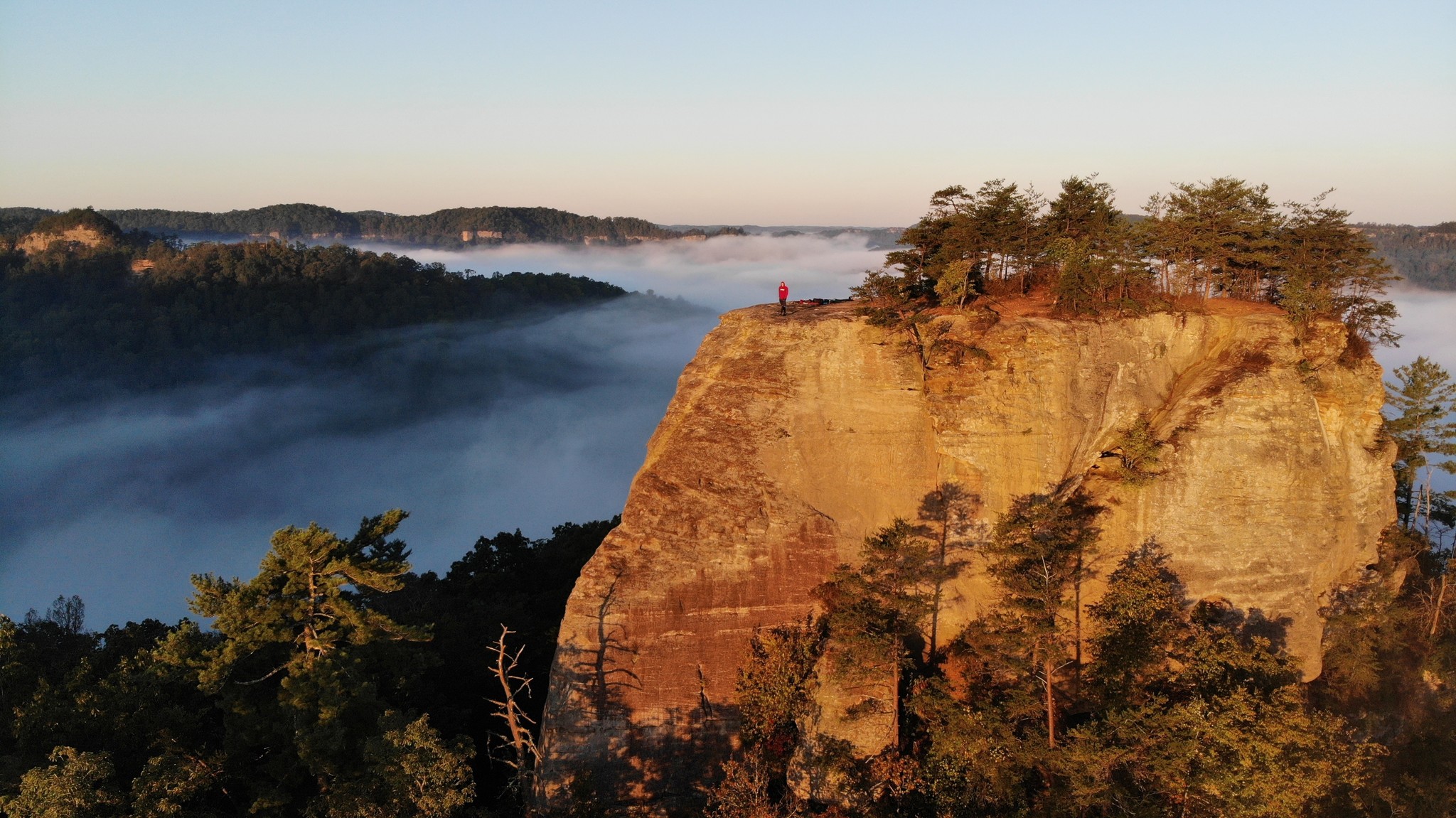 Written by:
Louis Dzierzak
LKD Media
612-618-2780