"I don't think this is it" I said. We stopped for a moment and surveyed the area around us. We had gained about 800 meters in elevation from the river valley below and up a drainage into this rocky bowl between the peaks of several mountains just that morning. Now in early afternoon we were surrounded by talus and scree, no plants in sight and walls of scree all around us. It was true alpine terrain and we might be stuck.....
"I don't think this is it" I said. We stopped for a moment and surveyed the area around us. We had gained about 800 meters in elevation from the river valley below and up a drainage into this rocky bowl between the peaks of several mountains just that morning. Now in early afternoon we were surrounded by talus and scree, no plants in sight and walls of scree all around us. It was true alpine terrain and we might be stuck.
I and three others were on our independent student group expedition of our Semester in Patagonia with the National Outdoor Leadership School. The last couple of months had seen us sea kayaking the pristine archipelago for month; enduring rain most of the time, rough seas and wind, a 'swamp' camp and swimming with icebergs near the Jorge Montt glacier. Another month had been spent in the mountains in and around Cordon Contreras climbing peaks, glacier travel, epic Patagonian bush-whacking and wild river crossings. We had a good base level of experience to travel in this small group of four, we could read the topo maps, knew risk management and had chosen our route from the choices given to us.
On the topo map back at Rendezvous this saddle of 1865m had looked fairly straight-forward. We were dropped off two days ago at a lake and traveled up the valley, camping along the river bed, having a rare camp fire and generally enjoying ourselves because this was the first time in two months that we didn't have 10 other students and four instructors with us dictating where we went, what we did and what time we did it.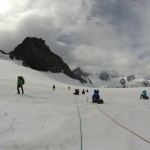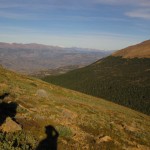 "Why not?" Emily asked,
"Are you sure we didn't go up the wrong drainage, I'm having a hard time identifying that peak….we didn't go to Argentina did we?" I ask. We laugh and check the map again, using our gps to get our UTM's just in case. We are indeed in the right place and we might be stuck. The 'saddle' that we have to cross over to continue our route turns out to be a 30m wall of loose scree that looks steep as a knife's blade and the other side that we can imagine is just as bad.
Cullen, the only guy in our group, is scouting and attempting to find a better way. There really is none, all the other areas in this bowl are technical rock climbing and we have neither the gear nor experience or even taller walls of scree. The peaks around us are taller than our saddle and are covered in more technical terrain and hanging glaciers. It's either over or back down.
"I'm not comfortable with attempting that" I say. I feel bad for saying it but if I've learned anything on this trip it's that not only does my balance suck but that I'm accident prone and trying to get up that saddle with no knowing what's on the other side does not sound like a good move to me right now. We decide to camp after more discussion and attempts to find a safe route up the wall, before admitting defeat for the day and pitching our tent in a mildly protected area behind some boulders from the constant wind and tying it down with the biggest rocks we can find. "Big-ger rocks! Moo-re rocks!" chants in our head with the voice of one of our instructors from our first night camping in terrain like this. It had been on a moraine of our first glacier and we had been happy for those tons of rocks holding our tents down when a storm blew through: we spent the night wondering if it was getting bad enough to need to brace the walls.
Our camp looks out into the amazing view of Cerro Castillo and the peaks surrounding it. With as high up as we are we don't lose the light until late and it's surprisingly warm up here in this barren rock bowl. Cullen makes mac and cheese for dinner while Emily passes around the ubiquitous mate cup and we discuss our options. If we can't make it safely over the saddle tomorrow, we will have no choice but to turn around, go back down the drainage and into the valley. Looking at the map we know that we can't even go up another drainage: going farther up the valley to the north and going up the next drainage will take us into Argentina, and going south to the valley opening will take us to the Carrera Austral. We have to get to our pick up point which is over these mountains or along the road. We'd rather stay away from the road, enjoy our last bit of wilderness as long as we can.
That night I slept uneasily. Not only was it warmer than I was used to at this point, but I kept hearing rocks move around us. Thoughts of a rock slide danced around my head just as much as the thought of the elusive puma since we had seen guanacos high in the mountain sides that day. Surely guanacos only moved around during the daylight? A puma wouldn't come near us!….Right? I simply didn't make my usual midnight pee and hoped that there were no rock slides.
Morning came and we stared down our 'Wall of Destiny'. The rule was that we wouldn't get to a point where we didn't think we could get down and to use sound judgment. The first move was to traverse a line up as much as we could, keeping out of each other's fall lines and making our way towards some solid rock that jutted out of the scree around it. Upon reaching that we began our plan of using the rock as a solid hold to move up to the top of the wall. Under our feet the rocks slid and often times we would have to regain our footing just standing and waiting for the next move to be made.
Slowly, we made our way up with Cullen route-finding. This was on the verge of class V rock climbing and we were doing it without any form of protection and a steep drop down loose rock below us. My pack unbalanced me, and my feet having gotten used to the weight and stability of plastic mountaineering boots didn't like how much movement by hiking boots gave them. Stopped just below the edge, Emily, our group leader, sends Cullen over the side to check and see if continuing is plausible or if we need to attempt to go back down. He disappears over the top and we are quiet for a moment. The wind is strong up here, catching the bulk of my pack and unbalancing me more. My hands against the rock are freezing and the light layer of hiking clothing I'm wearing is not enough. I dressed for movement this morning, right now I wish I had my fleece.
Suddenly, Cullen's head pops up over the rock. "There's a lake up here!" he says,
"What?" we all ask,
"Yeah, a really big one! Come on up!" he disappears again and we all look at each other; Sara shrugs and we finish making our way over the tricky section of rock and find ourselves in a smaller cup of rock on top of the saddle. There is indeed a very large lake.
"Are you sure we're not in Argentina" I jokingly ask, I know we aren't but even though the map is out of date, surely this lake would have made it onto it at some point even as a pond? It sits below us in the other side of the bowl separated by this wall of rock. Sara takes a few pictures of us in front of our surprise lake and we begin the process of finding a way down. It's just as sketchy as the way up and involves a combination of hoping the rock doesn't keep sliding while you're on it and that if it does, that it stops sooner rather than later. We spent two hours moving down a 30m slope and at one point had to cut steps into some hidden black ice with our ice ax before being able to move one.
Finally, we reach the bottom and give each other a high-five. We have gone up and over a wall about 30m high and might have only gone a football field's length horizontally but it has taken us almost four hours and there's another 8km to go for the day while sticking to our travel plan. The lake is crystal clear and icy cold, created by the hanging glaciers all around us. After a fifteen minute break to drink water and eat a snack, we begin following the stream at the end of the lake down the surprisingly gently-sloping drainage. Ahead of us we can see more mountains across a beautiful valley with large expanses of open steppe.
I'm fervently hoping that the scree and loose rock is at an end, I'm already mentally tired from having to navigate thus far. But I don't get my wish. Just ahead of us the drainage leaps down into a waterfall that we can't climb down and this bowl that we're in is almost like a shelf with drops all around. We spend another half hour scouting around for the best spot, throwing out those areas that higher consequences when we fall. Finally we settle on a route that follows one mildly stable area to the next with bigger boulders that hopefully won't move to provide some area to stop. The wind is strong here too, enough that I could lean into it and not move for a moment; I guess it's getting funneled up through these peaks.
It's 3pm and we are finally stepping onto a green terrain again, in this case a large expanse of mertilla or red crowberry that Sara immediately starts to eat. I take a handful of the red berries too, enjoying their pomegranate-like taste and texture. Ahead of us we can see a mature lenga forest and the river descending into the valley below. Far to our south is Cerro Piramade, a pyramid shaped mountain that we are aiming to camp at tonight.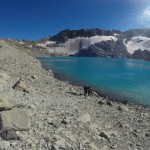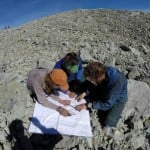 We have a decision to make: we can follow the river directly and hope that along the way we encounter a cow or gaucho path to follow, stay in the trees and use our larger sight lines to guide us, or stay above tree line and hope that it doesn't get too steep or unstable along the way. I prefer to stay above tree line, having had plenty of experience with Patagonian bush-whacking including a 13 hour 'Day of the Shwack' that got us into camp at midnight.
Turns out that the lenga forest was wide open, with space between the trunks and the canopy dense enough that we could easily walk through them. We wisely take the path of least resistance, even if it gets steep here and we fall it's not like we'll fall far.
In five days we will have to be at a pre-determined pick up point where the Zanjon Feo River meets the road just before emptying into General Carrera lake, the second biggest lake in Chile. I'm both ready and not ready to be there. My last few months has been the time of my life. I've endured Patagonia weather in true form: rain, wind, snow, hail, sun, blue skies, and did I mention rain? My hands have scars from chilblains, the result of cold and exposure during kayaking. My body has some epic bruises from all the times I've fallen during mountaineering. I've met some amazing people and learned to deal with the ones I dislike with good Expedition Behavior in mind. I can willingly capsize a kayak into cold water and throw myself down a snow slope with an ax in my hand and the intent of keeping the pointy end away from my face. My version of what 'goes' and what doesn't and what can be considered a campsite has vastly changed since coming here. I am storm-proof, I know where my rain jacket is, my pack is 'in style' and can stand up if I set it on the ground, and I've planned ahead and prepared.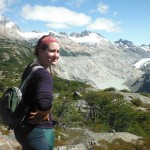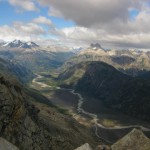 I will miss the remoteness of where we are. I will miss mate sessions any time someone has hot water and cooking over a single stove for four people. I will miss the fact that when we're bored, we have to either find something to do or go talk to someone rather than simply retreating to technology. I will miss IFE, the game that will send us all to hell and slack-jaw during pictures. I will miss the stars, sunrise hikes, swimming in really cold water, eating ever berry in sight, and even the shwack. But right now I miss fresh food, hot showers and my family. I'll be back. I don't know when or how but I'll make it happen soon. Patagonia is simply a place that you have to experience.