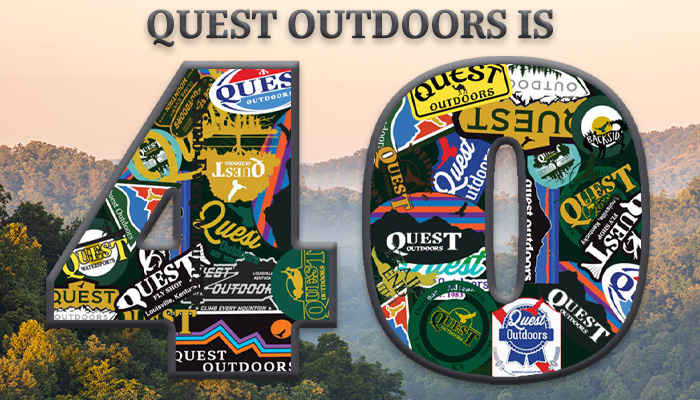 Quest Outdoors Is Turning 40 Years Old September 23rd.
It's been 40 years since Quest Outdoors opened its doors in Louisville and began climbing every mountain with you, our customers. It's a journey as an organization that is not made alone but with generations of loyal friends and a vibrant community of people and organizations that truly care about the landscape on which we tread. If you look at the hundreds of pictures lining the walls of Quest outdoors in Central St. Mathews you can see the incredible adventures of hundreds of customers and employees from 1983 to present. But it's not the packs on the backs or the boots on their feet that Quest is celebrating on September 23rd, it's the people in them that have made it possible for a local store to continue to thrive in a retail landscape some believe is becoming endangered.
On September 23rd Quest will be hosting a party to commemorate its 40th birthday and everyone's invited. Naturally, brands are supporting the event by sending brand representatives and hundreds of items as giveaways during the event. There will be raffles every hour for items like backpacks, sleeping bags, dog leashes, water bottles, chairs, hammocks, blankets, jackets and so much more. There will also be a climbing wall by Elemental climbing and our now famous Wheel of Discounts. But this celebration will be different by all accounts.
We're not just having an ordinary celebration with a sale and a banner, though we're still doing that

of course

. We're having a celebration of the community inviting local community leaders, non-profits, our brand representatives that support us and the places we love, and the Mayor of Louisville will be there to celebrate with us. From The Parklands, The Olmstead, Red River Gorge Climbing Coalition, Kentucky Waterways Alliance, Jefferson Memorial Forest, Bernheim, Headfirst Performance, Trees Louisville, The Big Stomp and Earth Walk, they will all have their own space at the party to talk with people about what they do.




Quest is adamant that the focus of this event is really on the customers and the community that has made Quest part of the landscape it celebrates. We're here because of our customers… period…. generations of amazing people who shop locally with us whenever they can. They're the most loyal in the world. Because of them we succeed and are able to support the causes that allow us all to enjoy not just this Commonwealth but places we love around the world. It's fair to say we couldn't be here doing this without these amazing people.


The celebration starts on September 23rd at 10AM and will go on till 7pm at Quest's store in St. Matthews. Most booths will be set up between the hours of 10am-4pm but we will be celebrating all day
The first 40 customers in the store will receive some really great swag!